Vuoi acquistare i prodotti recensiti su strumenti musicali info?
Are you looking for a noteworthy microphone but don't know which one to choose from among the many on the market? In fact it is a not exactly simple choice because in addition to considering the aesthetic aspect you must absolutely pay attention to the performance it is able to offer.
In this post we have decided to put pen to paper the best Shure microphones for singing and recording because in our opinion it is a high-end brand for both beginners and professionals. The company was founded in 1925 and still today represents a point of reference for many professionals in the sector.
So let's see the list of best Shure microphones available today on the market.
Best Shure Microphones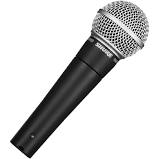 It should be noted that this model has been in production since 1966, it is a very high quality product, it is mainly used as a microphone for live voice.
Thanks to its XLR output, this unit requires a USB interface or a portable recorder to make it work as a microphone for recording. The sound is of high quality even if you don't have a high-end amplifier. There voice that comes out turns out to be warm and clear , background noises are not amplified because the sound source is well insulated.
This product is very simple and easy to set up, it is especially ideal for beginners who wish to perform live. From a design point of view it looks a lot aesthetically beautiful and ergonomic . It is resistant and durable over time, the build quality is excellent.
So if you are looking for a microphone with an excellent quality – price ratio then you already have the answer at your fingertips: the Shure SM58 microphone represents the best compromise you can do to have a good quality article in your hands.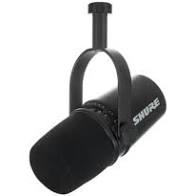 Among the best Shure microphones we could not fail to include the SM7B model. It is an article particularly suitable for the both male and female voice although many are used to using it for musical instruments such as electric guitar, drums or bass .
The peculiarity of this product is the ease with which it can perfectly integrate into every single system: from the high-end recording studio to the decidedly cheaper home studio.
Therefore, if you are not going to invest too much money but have a limited budget and still want to give an imprint of professionalism, then the Shure SM7B microphone may be for you , is one of the products that turns out to be among the most appreciated by voice professionals around the world.
Among the various features it boasts we also include: resistance, robustness, versatility , in short, an article that can really make a difference!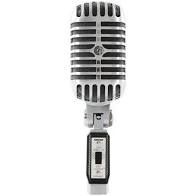 This model is particularly suitable for vocal recordings are therefore widely used in live productions, during recordings i, is also preferred for i broadcast, for PA systems and in all those situations where a microphone mounted on a stand is required.
Its purely vintage style gives further added value, it stands out from all the other models for the profuse chromed body – satin for a highly performing design .
There are many advantages that you can derive from this microphone: in particularly adverse acoustic conditions the performance will be equally optimal, it is ideal for singing, speaking or for musical instruments , in addition, the vibrations that can be transmitted through the shaft are greatly reduced thanks to the integration of the antishock support of the capsule.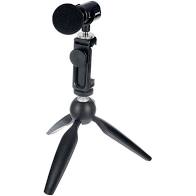 A compact design item is the Shure MV88 + microphone . The peculiarity it boasts is digital recording. It is a small microphone for iPhone, you do not need to read the instructions in the package for its use because it turns out to be quite simple and intuitive.
The microphone connects to any iOS device equipped with a Lightning connector , all you have to do if your choice falls on this product, is to direct the microphone towards the sound source and start recording. What result will you be able to achieve? It will surely turn out 99% excellent . Moreover, the article is equipped with a windscreen hood, this means in other words that, even in the presence of wind it is excellent because it attenuates the noise.
Those who have already tested it proved more than satisfied, it is a great accessory and its size makes it very practical . The structure is made entirely of metal and this feature makes it durable and resistant for a very long time.
Inside the package there is a case with a zipper that allows you to store the microphone when you need to move from one place to another.
Conclusions
Of course the Shure company offers many other items, however we have decided to illustrate those that could meet your expectations and your wallet especially if you are a beginner.
Every single product mentioned turns out to be of high quality, both in terms of sound and construction, so you just have to choose the one that could fully satisfy your every need.
See you next time!
Negozio di strumenti musicali online - vendita al miglior prezzo e numerose offerte