Vuoi acquistare i prodotti recensiti su strumenti musicali info?
Best Dash Cams: We protect ourselves and our cars
Here is a guide on how to find the best dash cam for your car.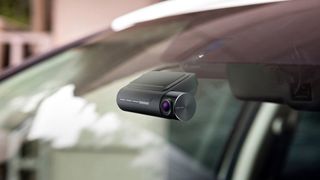 We all have always thought that a dash cam only looks forward and records video when it detects a collision, but most people are unaware that some of them are much smarter than one might expect.
These new dash cams are tasked with driving assistance, even warning you if you accidentally stray out of your lane or if you don't notice the car in front is coming at you. Some of these dash cams also call emergency services and provide your exact GPS location if you have a claim and shouldn't respond. Others can be connected to a second camera to record from the rear window.
With video quality improving dramatically, the dash cam market is expanding very rapidly, with new ranges recently launched from manufacturers like Nextbase and Thinkware, and some of these cameras even shoot 4K video! Really remarkable!
Many users will likely see similarities between the dash cam and action cameras currently out there, such as GoPro or DJI Osmo Action. Specifically for action cameras, video resolution, frame rates and viewing angle are all important, while dash cams place a lot of importance on night vision.
Dash cams are commonly preferred because they can be plugged in for constant power, as those that have internal battery usually last around 30 minutes. The ideal solution would be to connect them to the car's USB port or to the 12V socket, or even better by paying a specialist technician to have them installed; in this way, their wires are hidden and powered directly from your car, then they turn on and off with the ignition of the vehicle. With this system, dash cams can record even when parked.
Now we reveal what are the best dash cams available right now.
The best Dash Cams of the
Our all-time favorite dash cam with a further improvement, with an even wider viewing angle.
Video Quality: 1440p with HDR at 60fps | Viewing angle: 180 degrees | Integrated GPS: Yes | Screen: 2.0 inch LCD, 320 x 240
PRO
Compact size
High resolution
Wide field of view
VERSUS
It costs more than others
Battery life (30 minutes)
The new Garmin Dash Cam 66W replaces the Garmin 55. The new model does not betray the expectations and maintains the compact size and ease of use of its predecessor, but increases the field of view from 122 to 180 degrees, offering a much wider view of your car. Also new is HDR (High Dynamic Range) video recording, to help keep details in high-contrast lighting, while with a Wi-Fi connection to your mobile phone and installing the Garmin Drive app, you can connect up to to four cameras at the same time and have the video synchronized as they turn, giving a 360 degree view around your car. The battery life unfortunately is only 30 minutes without connecting to the car's cigarette lighter socket. If you choose a professional installation, the camera will stay on even when the car is stationary or parked, so it records if someone accidentally collides with the car or passes by.
Quality video with this fantastic Dash cam.
Video Quality: 1440p at 30fps / 1080p at 60fps | Integrated GPS: Yes | Screen: 3 inch LCD
PRO
Outstanding video quality
Amazon Alexa (Really useful)
SOS Emergency
VERSUS
Not in 4K (But that's okay)
The display menu should be modernized
While it doesn't offer the 4K option like the 612GW, the Nextbase 522GW most likely offers superior image quality. Both at 1440p (30fps) and at 1080p (60fps) the video is very sharp and clear, the only flaw is undoubtedly the absence of the 4K mode. Being the first dash cam to bring integrated Alexa functionality, it offers voice control and therefore can play music and can be used as a navigator. We think its best feature is Emergency SOS, which can detect a very serious accident and alert emergency services such as 118, giving you the exact location of your vehicle if you fail to respond. This potentially life-saving feature makes the 522GW the absolute best in terms of safety in our view.
A small camcorder at a truly affordable price.
Video Quality: 1080p @ 30fps | Viewing angle: 140 degrees | Integrated GPS: No | Screen: No
PRO
Small and contained design
1080 Full HD resolution
VERSUS
The latest addition to Garmin Dash Cam. The Mini Dash Cam records Full HD 1080 video through a 140 degree lens, it is small enough to be the same size as a car key. Handy and ready-to-use camera, Garmin Dash Cam Mini is designed to be stowed behind the windshield mirror, once plugged into the socket or plugged into the car's fuse box, it will start when the car is started it also records when an accident should happen. If wired optimally, it will stay alert even when the car is parked. This Dash Cam has no display and no internal battery, but the small size and simplicity are a great reward. A Wi-Fi connection to the Garmin Drive phone app makes it easier for you to download saved footage from the camera when you might need it.
4K video and discreet design.
Video quality: 4K at 30fps | Integrated GPS: Yes | Screen: No
PRO
Access for remote functions via the Cloud
4K video resolution
VERSUS
No Display
Features with the Cloud require a monthly fee
The BlackVue DR900S-1CH offers 4K video recording, a wider lens than most of its "opponents", GPS and parking mode. Additionally, there is a Cloud-based subscription package for viewing live or pre-recorded footage, and a service that notifies your smartphone when the camera detects a collision – very useful if your car has been hit while you are Street . Many will turn up their noses for this monthly subscription service, but it is certainly a great advantage that this service offers us and our car.
Negozio di strumenti musicali online - vendita al miglior prezzo e numerose offerte